CLOSE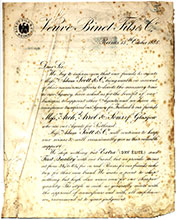 1872 – VEUVE BINET FILS & CO
Catherine BINET (aka the BINET Widow) takes responsibility for Maison "BINET Fils & Co" at the death of her husband.
The House will take a few years later, in 1876 after the death of his son Jean-Baptiste BINET, under the name of "Veuve BINET Fils & Co" and held it until about 1910.
At the same time… Japan's first Japanese language daily newspaper is published under the name Tokyo Nichi Nichi Shimbun (February 21).